Douglas Laing lanceert de zeer gelimiteerde Yula 22 Years Old Island Malt Scotch Whisky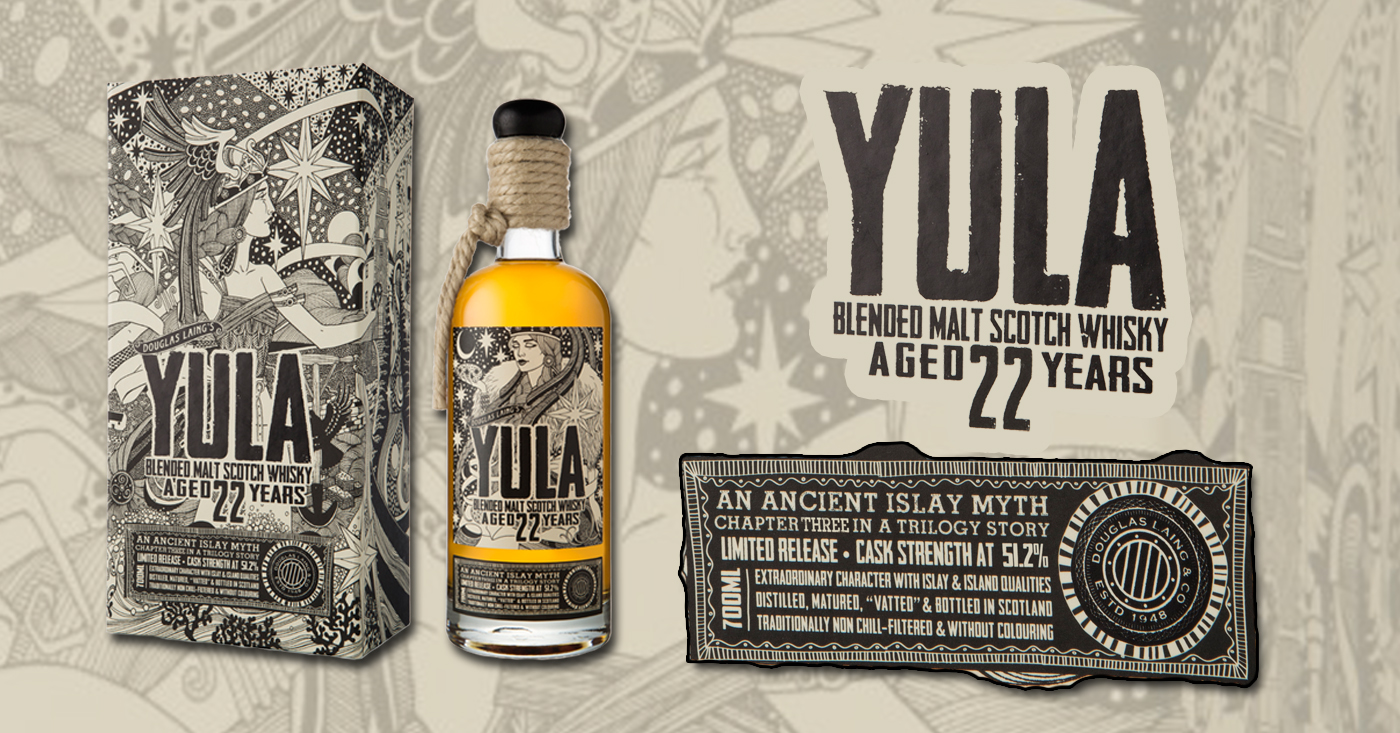 Douglas Laing lanceert de zeer gelimiteerde Yula 22 Years Old Island Malt Scotch Whisky
Met gepaste trots kunnen wij u mededelen dat de 3e editie van de trilogie van de Yula Island Malt Scotch Whisky is gelanceerd en per direct zal worden uitgeleverd. Van deze mooie whisky zijn slechts 900 flessen wereldwijd verkrijgbaar.
Artikelnr: 108668 Yula 22 Years Old Blended Malt 0,70 ltr
De allocatie van deze zeer gelimiteerde whisky geschiedt via de Verkoop Buitendienst van De Monnik Dranken.
Hieronder het officiële nieuwsbericht:
The Trilogy Concludes With Douglas Laing's "YULA" Chapter 3 22 Years Old Island Malt Scotch Whisky
A Limited Edition of Only 900 Bottles Leading Scotch Whisky firm Douglas Laing, today announces the grand finale of its Yula trilogy series with a 22 Years Old Limited Edition bottling. This final instalment of rare, aged Island Malt Scotch Whisky has been inspired by the eponymous ancient Islay legend of a beautiful but tragic Norse goddess. Douglas Laing's Yula 22 Years Old is a unique marriage of Scotland's finest Island Single Malts resulting in a Whisky with a distinctly maritime and gently smoked character bottled at natural cask strength of 51.2%, and without colouring nor chill-filtration. The Yula trilogy collection has uniquely charted the spirit's journey over the years - each bottling showing how time has influenced the story. The first edition, Yula 20 Years Old launched in October 2015 to resounding global acclaim. The follow up, Yula 21 Years Old, launched in September 2016 and presented a richer, more intense oceanic quality. Ancient Islay legend has it that a beautiful Norse goddess - Yula - embarked on a long journey searching for her long lost love with an apron full of pebbles. The stones fell out as she travelled, forming a string of islands and leaving behind a trail of her thankless pursuit. Tragic Yula never did find her love, but perished in the turbulent seas surrounding Islay which was the last jewel-shaped stone to fall from her apron. It's here on Islay, which in old Norse means "Yula's Isle", that Douglas Laing's heroine is buried, her final resting place marked by two standing stones that can still be seen to this day. Douglas Laing's Director of Whisky, Cara Laing, comments: "This final Yula bottling is a stunning example of the care, craft and investment we put into our Whiskies. As we fast approach our 70th year in the industry, we're well versed at turning out distinctive Whiskies of exceptional quality - this is very much the case with the Yula series. This most recent bottling has aged with a complex backdrop whilst maintaining that archetypal Island character." Yula's third and final chapter is available from specialist Whisky retailers from September 2017. Only 900 bottles of this rare Malt are available globally.
TASTING NOTE
Catch a gentle oceanic salt and ozone clean zephyr as the nose opens – with its later tobacco and leather style. Palatewise, anticipate a complex mix of sweet peat, pepper, coal dust, oak wood smoke and a late-on-the-palate chocolatey sweetness. The long subtle finish initially reflects that dulcet, barley quality but still shows a warmingly spiced, tarred and sooted style.