Douglas Laing komt met Rock Oyster Cask Strength Limited Edition Batch 2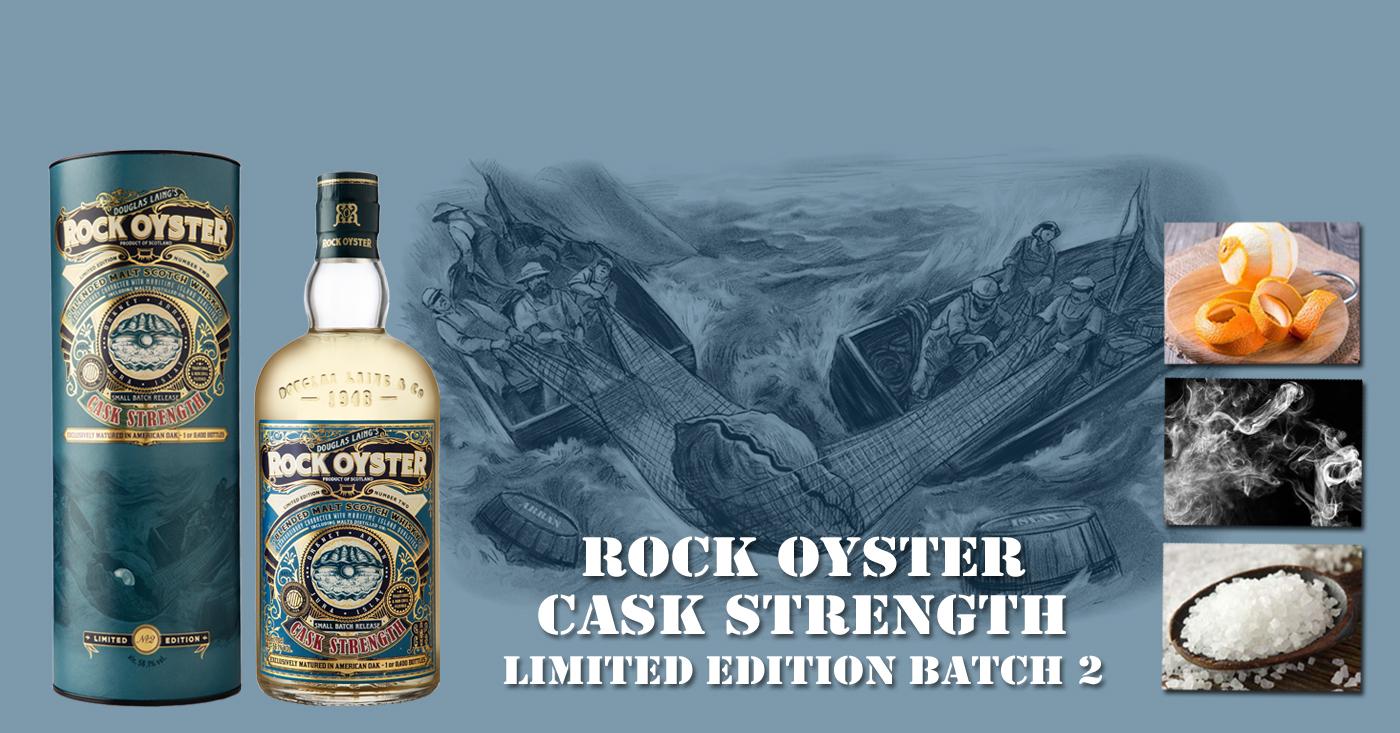 Douglas Laing komt met Rock Oyster Cask Strength Limited Edition Batch 2
OLDENZAAL – dinsdag 7 augustus 2018
Douglas Laing lanceert op regelmatige basis in kleine oplage geproduceerde limited editions. Zo ook de Rock Oyster Cask Strength Limited Edition. Deze nieuwste uitgave is een mooie blended malt van whisky's afkomstig van de eilanden Islay, Arran, Jura en Orkney. Twee jaar geleden werd de eerste editie van deze tweedelige Rock Oyster Cask serie gelanceerd en nu kunnen de whiskyliefhebbers genieten van Batch 2! Deze maritieme whisky is gebotteld op 56,1% alc. en bevat tonen van geflambeerde sinaasappelschillen, een vleugje turf en is licht ziltig.
109657 ROCK OYSTER Cask Strength Limited Edition Batch#2 0,70 ltr. - 56.1% vol.
De allocatie van deze limited edition van de Rock Oyster Cask Strenght Limited Edition Batch #2 verloopt via de Verkoop Buitendienst van De Monnik Dranken. De verwachting is dat wij vanaf week 36 kunnen uitleveren en vanzelfsprekend geldt; OP=OP!
Zie hieronder het officiële persbericht van Douglas Laing:
DOUGLAS LAING ANNOUNCES ROCK OYSTER CASK STRENGTH LIMITED EDITION 2 AHEAD OF NATIONAL OYSTER DAY
Douglas Laing & Co today announces the release of Cask Strength Rock Oyster Limited Edition Island Malt Scotch Whisky to mark National Oyster Day. The conclusion of a two-part series, Rock Oyster Cask Strength #2 is exclusively matured in American oak and bottled at 56.1% alcohol.
Rock Oyster Cask Strength #2
Rock Oyster was first brought to market in 2015, a Small Batch bottling created from maritime Malts, including those distilled on the islands of Islay, Arran, Jura and Orkney. Since then, the brand has filled an enviable trophy cabinet, with a Gold Medal from the New York International Spirits Competition under its belt, and the ultimate accolade – the Master Award – for Rock Oyster 18 Years Old from the Scotch Whisky Masters most recently. Limited Edition releases within the range have proven popular the world over; alongside the first Cask Strength release and Rock Oyster 18 Years Old, Rock Oyster Sherry Limited Edition was unveiled in 2017. The new Cask Strength release is said to deliver "flambéed orange peel, rich earthiness, puffs of drifting peat smoke and salty tang" on the palate and, in classic Douglas Laing style, the maritime Malt is assuredly offered without colouring or chill-filtration, reportedly ensuring that the Scotch Whisky is truly "as natural as it gets". Says Chris Leggat, Chief Executive Officer at the family business: "It's been two years since the launch of Rock Oyster Cask Strength and we're delighted to now respond to customer demand with this new limited release. It's true what they say – calm seas never made skilled sailors – nor did they make monstrously maritime Whiskies! This is a spectacularly stormy, rich and earthy dram that fans of Rock Oyster's coastal spirit will undoubtedly relish. A perfectly peated dram to pair with shellfish on National Oyster Day!"