Big Peat onthult collectors item 'The Platinum Edition' 26 YO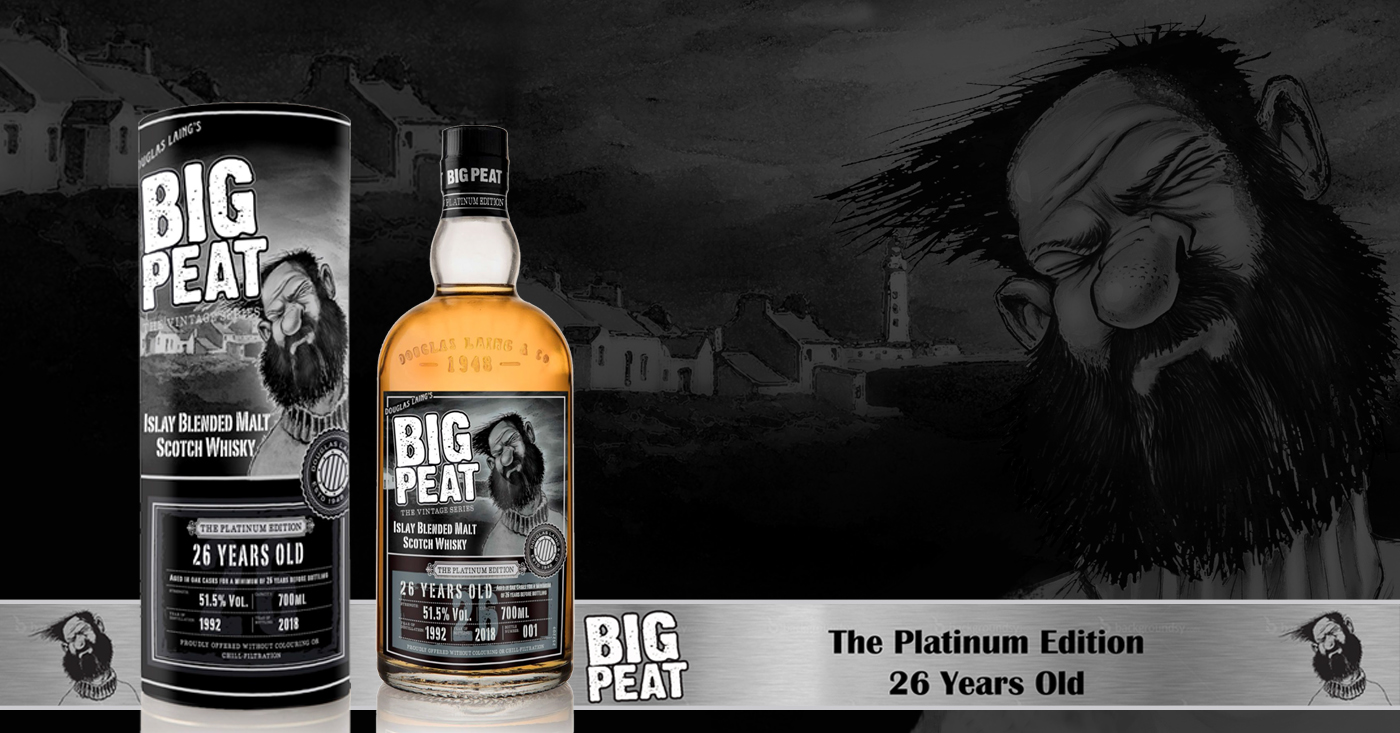 Big Peat onthult collectors item 'The Platinum Edition' 26 YO
OLDENZAAL - Dinsdag 11 december 2018
We zijn verheugd u te mogen meedelen dat we aan het eind van deze week een gelimiteerd aantal flessen van Big Peat 26 YO 'The Platinum Edition' in ons magazijn in Oldenzaal mogen ontvangen.
109399 Big Peat Islay 'The Platinum Edition' 26 YO 0,70 ltr.
Deze 'Platinum Edition' is de tweede release uit de Big Peat Limited Edition trilogie en de afsluiting van de platina jubileumviering van Douglas Laing.
Big Peat trilogie 'Vintage'-serie
Big Peat is verheugd om zijn 'Platinum Edition' te onthullen. Vorig jaar hebben we al kennis mogen maken met de
Big Peat 25 YO 'The Gold Edition'
, dit jaar 'The Platinum Edition" en in december 2019 volgt de voltooiing van de trilogie. Daar zullen we dus nog even op moeten wachten, maar deze prachtige serie 'vintage' whisky's van Big Peat is hoe dan ook een geweldig collectors item voor de ware Big Peat liefhebber! • 2017 –The Gold Edition • 2018 –The Platinum Edition • 2019 –?
Proefnotities Big Peat Islay 'The Platinum edition' 26 YO
Geur; rokerig barbecuevlees.
Smaak; in eerste instantie een zoet en zout gehemelte, met later kolenstof en turf.
Afdronk; heerlijk lange afdronk.
Overig
Gebotteld op 51.5% vol;
Cask Strenght;
Natuurlijke kleur en non chill filtered;
Individueel genummerde labels;
Premium Gift Tube;
Allocatie
De allocatie van deze
limited edition
van Big Peat 26YO 'The Platinum Edition' verloopt via de Verkoop Buitendienst van De Monnik Dranken. De verwachting is dat wij vanaf week 51 kunnen uitleveren en vanzelfsprekend geldt OP=OP Hieronder het officiele persbericht van Douglas Laing:
Platinum Double Hit Rounds off 70th Anniversary Celebrations at  Douglas Laing & Co
Concluding their Platinum Anniversary celebrations, Douglas Laing & Co has unveiled two appropriately themed Limited Editions; a XOP Platinum Port Ellen 1982 Vintage Single Cask and the second release of Big Peat's aged limited edition trilogy; the Platinum Edition Aged 26 Years Old.
2018 has seen the family firm celebrate 70 years of Whisky adventures with various special bottlings, a gala dinner and consumer activation throughout the anniversary year.
The XOP Platinum Port Ellen bottling has yielded just 273 bottles at a natural cask strength of 54.5% with the Whisky offering up a mouth-puckering palate of salt, tar, phenol, coal dust and mocha. The elusive Islay distillery was the preferred Single Malt of the family firm's founder, and its rarity and prestige coupled with its elegant, unmistakable spirit profile renders it the undisputed choice for a celebratory bottling of this magnitude.
The Big Peat Platinum Edition is also bottled at a natural cask strength of 51.5%, and, with only 3,000 bottles in existence, the Whisky bursts with smoky barbecued meat plus a salty sweet character. In true Douglas Laing style, both Limited Edition bottlings are proudly offering without colouring or chill filtration.
Cara Laing, Director of Whisky at her family's firm remarked "It's been a genuinely landmark, momentous and unforgettable year at Douglas Laing. From the launch of our Old Particular "double pack" in February, collectively delivering 70 years of Whisky excellence with a 35 Years Old Single Cask Single Malt and a 35 Years Old Grain, to our global distributor conference followed by a very memorable gala dinner in August, the release of our XOP Platinum Single Cask series and now Big Peat's Platinum bottling, we've truly honoured this significant milestone in our family history in more ways than my grandfather could ever have imagined. Here's to the next 70 years of Whisky adventures!"
Big Peat Platinum 26 Years Old Limited Edition and XOP Platinum Port Ellen Vintage 1982, are available from spirits specialists in the UK, Europe and Asia.
- ENDS -
ABOUT DOUGLAS LAING:
www.douglaslaing.com
Facebook: www.facebook.com/douglaslaingwhisky
Twitter: @dlaingwhisky
Established 70 years ago, Douglas Laing & Co. is a leading creator and purveyor of the finest Scotch Whiskies, specialising in Single Cask Single Malts and Small Batch Malt Scotch Whiskies. The company was founded by Fred Douglas Laing in 1948 and is still owned and run by the Laing family – Fred Laing Jr and his daughter Cara Laing.
The company philosophy is to bottle the way the distiller intended – at a high strength and non-chill-filtered to preserve the robust and unique character of the Whisky. Douglas Laing's industry reputation and many awards is testament to this ethos.
In 2015, the firm announced the launch of its first "umbrella" brand - Remarkable Regional Malts – a collection that encompasses Timorous Beastie (Highlands), Scallywag (Speyside), The Gauldrons (Campbeltown), Rock Oyster (Islands), and Big Peat from Islay, offering the consumer The Ultimate Distillation of Scotland's Malt Whisky Regions.  The firm's second umbrella brand, Exceptional Single Casks, launched in 2015, with Provenance, Old Particular and Xtra Old Particular, and as of 2018, now includes Premier Barrel.