Douglas Laing lanceert de eerste limited edition van 2018 met de Timorous Beastie 10 Years Old!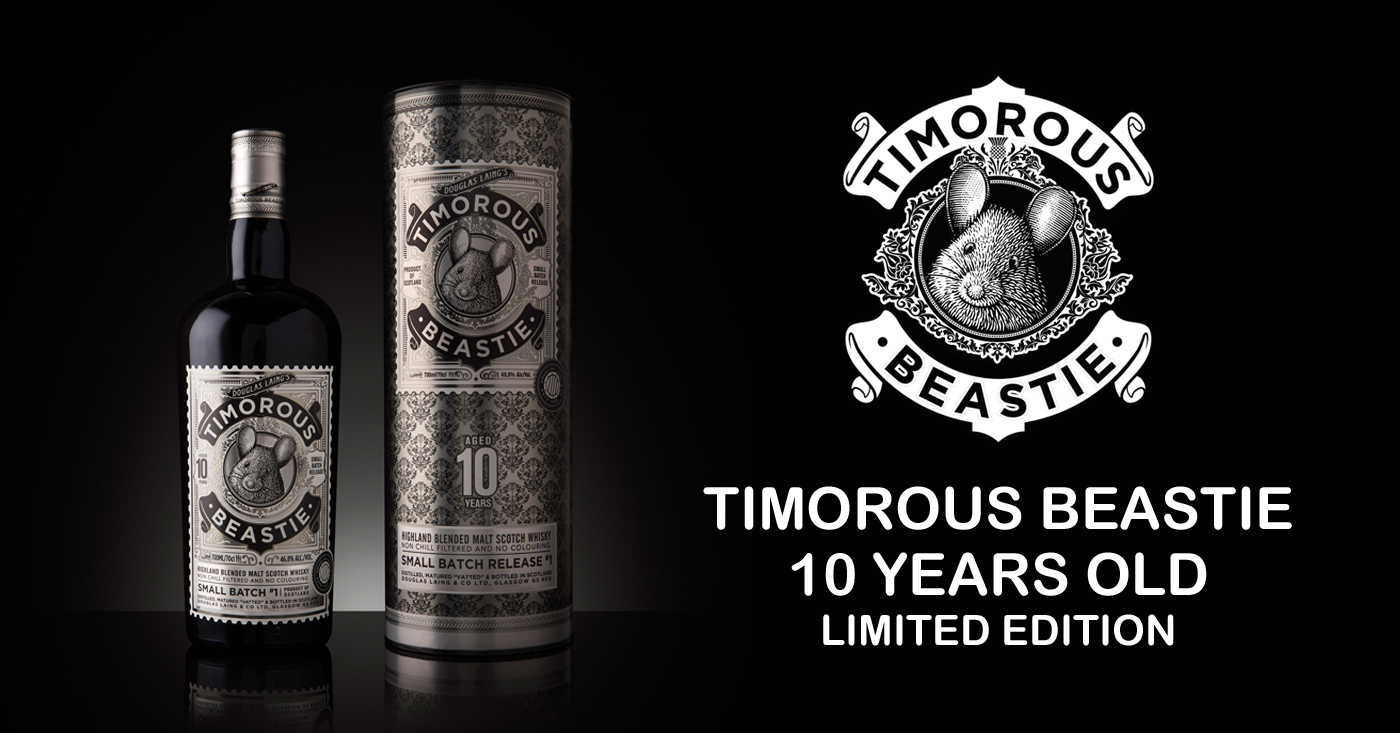 Douglas Laing lanceert de eerste limited edition van 2018 met de Timorous Beastie 10 Years Old!
Vrijdag 5 januari 2018
Douglas Laing lanceert op regelmatige basis exclusieve limited editions die zeer beperkt verkrijgbaar zijn. Zo ook:
108788 Timorous Beastie 10 Years Old Highland Blend Malt Whisky 0,70 ltr
De allocatie van deze beperkt verkrijgbare limited edition van Timorous Beastie verloopt via de Verkoop Buitendienst van De Monnik Dranken. Uitlevering vanaf week 3/4.
Zie hieronder het officiële persbericht van Douglas Laing:
Douglas Laing Announces Timorous Beastie Special Edition Aged 10 Years Old
Douglas Laing & Co, Glasgow-based family Scotch Whisky firm, today announces the launch of Timorous Beastie 10 Years Old Limited Edition Highland Malt Scotch Whisky. Bottled at 46.8% and offered without colouring or chill-filtration, the special bottling is a marriage of single malts exclusively from the Highland region, packaged in a premium, gun-metal-grey foiled gift tube. Its colour palette is said to reflect the traditional 10 year anniversary metal; aluminium. The original Timorous Beastie, immortalised in the famous poem "To a Mouse" was a timid yet characterful field mouse, by whom Scots poet Robert Burns was fascinated. Douglas Laing & Co launched its Timorous Beastie brand in 2014 in honour of the iconic "beastie", and has since enjoyed global success with its aged limited editions series, including the acclaimed 40 years old edition, rated 91 points by Whisky Fun's Serge Valentin. Commenting on the launch, Chris Leggat, Commercial Director says: "The latest addition to our Timorous Beastie family, our 10 Years Old special edition launches at an opportune time for Burns Night celebrations. The exciting new brand extension is a key activation within our global Timorous Beastie strategy for quarter 1, which encompasses a raft of "Malt of the Month" listings for the core brand, a series of whisky-paired Burns Suppers and a comprehensive digital plan that will seek to recruit new consumers to our accessible Highland Malt brand."
Tasting notes
The nose is immediately sugary sweet, bursting with warm syrup over sponge and ripe, juicy nectarines. The palate brings creamy honey, warm buttered toast, gentle spice and a distinct cereal character. All that leads to a deliciously full finish of honeycomb, zesty orange and soft fruits.