Douglas Laing lanceert de zeer gelimiteerde Big Peat Feis Ile 2018 Islay Whisky!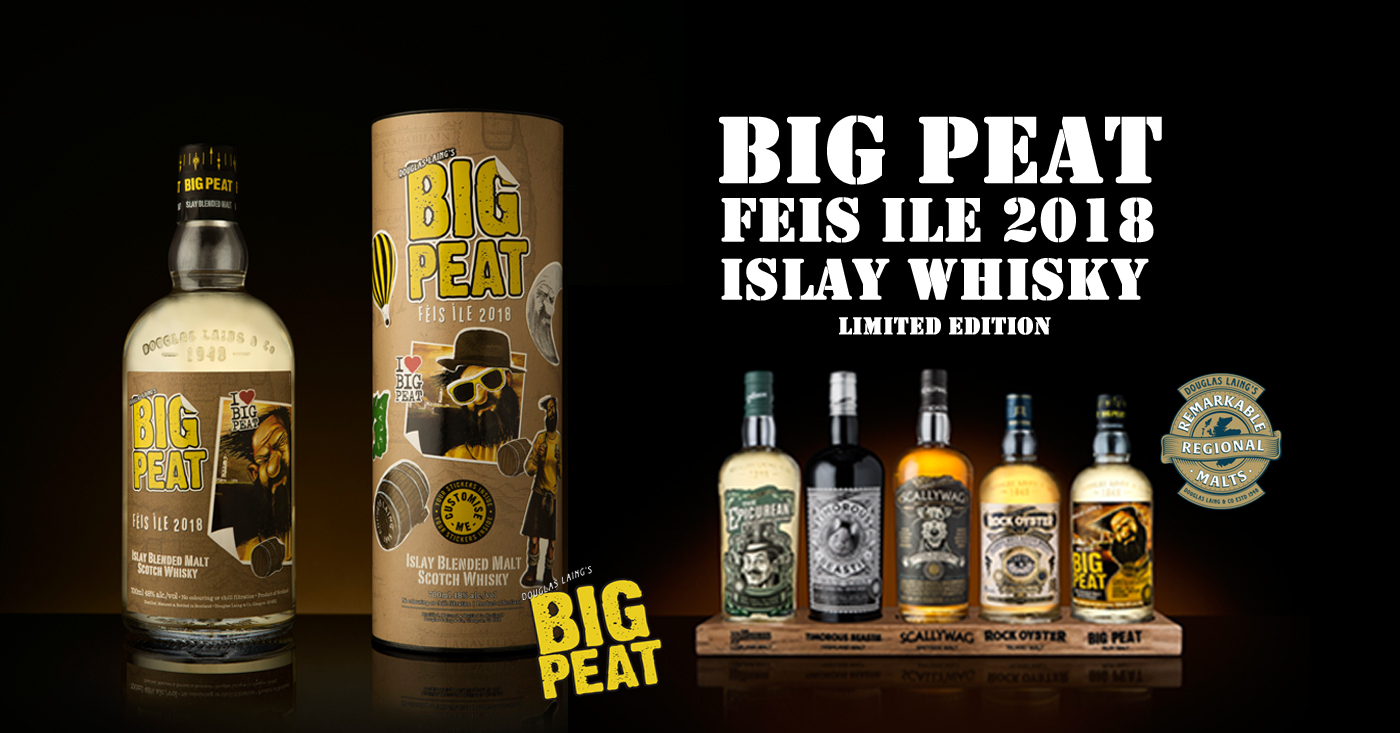 Douglas Laing lanceert de zeer gelimiteerde Big Peat Feis Ile 2018 Islay Whisky!
Douglas Laing lanceert op regelmatige basis exclusieve limited editions die zeer beperkt verkrijgbaar zijn. Zo ook:
108598 BIG PEAT Limited Edition Feis Ile 2018 0.70 ltr
Feis Ile is het jaarlijkse festival van Malt whisky en muziek op het eiland Islay. Er zijn stickers bijgevoegd waarmee de gift tube helemaal gepersonaliseerd kan worden. De allocatie van deze limited edition van Big Peat verloopt via de Verkoop Buitendienst van De Monnik Dranken. De verwachting is dat wij vanaf week 20 kunnen uitleveren.
Zie hieronder het officiële persbericht van Douglas Laing:
DOUGLAS LAING REVEALS BIG PEAT'S FEIS ILE 2018 LIMITED EDITION Douglas Laing & Co, leading independent Scotch Whisky business, today reveals Big Peat "Feis Ile 2018" Limited Edition. The family firm behind the "Remarkable Regional Malts" has produced just 3,000 bottles of the new award-winning Islay Malt Scotch Whisky, which is bottled at 48% alcohol strength and offered without colouring or chill-filtration, ensuring the end result captures the full expectation of Islay. Last year, Big Peat's Feis Ile commemorative bottling featured the faces of over 300 of his friends from all over the world and the innovation theme reaches new heights with this latest release. Included in each gift tube are a number of illustrated decals, inviting the purchaser to decorate and personalise their own individual pack in a fun factor that is believed to be a first for the industry. The decorative sticker designs include iconic Islay landmarks, Whisky symbols and Big Peat himself. Consumers are incentivised to share images of their creations via social media using #MyBigPeat, for a chance to win a "Taste of Islay" hamper. Cara Laing, Director of Whisky and third generation in her family's business, said: "We regard Big Peat a feisty gentleman of great character and depth, and whilst his particularly peated Islay Malt is revered and merits the utmost respect, he (and we) don't take ourselves too seriously. This latest Limited Edition demonstrates Douglas Laing and Big Peat's flair for innovation and fun as we encourage Whisky drinkers around the world to enjoy a taste of Islay and its legendary Feis Ile while they let their creative juices flow as they design their own bottle of Big Peat!" Big Peat Feis Ile 2018 Limited Edition is available from May from specialist Scotch Whisky retailers globally. Competition terms and conditions can be found at douglaslaing.com. Competition closes on 1st September 2018. - ENDS - Big Peat Feis Ile 2018 Tasting Notes: Nose: Initially dried seaweed then comes barbecued meats and golden syrup; Palate: Smoked barley with damp leather, chimney soot and a hint of lemon rind; Finish: Long and moreish with a sea-salt tang plus streaky bacon and charred oak.