Douglas Laing lanceert de zeer gelimiteerde Scallywag 10 YO Limited Edition Speyside Malt Scotch Whisky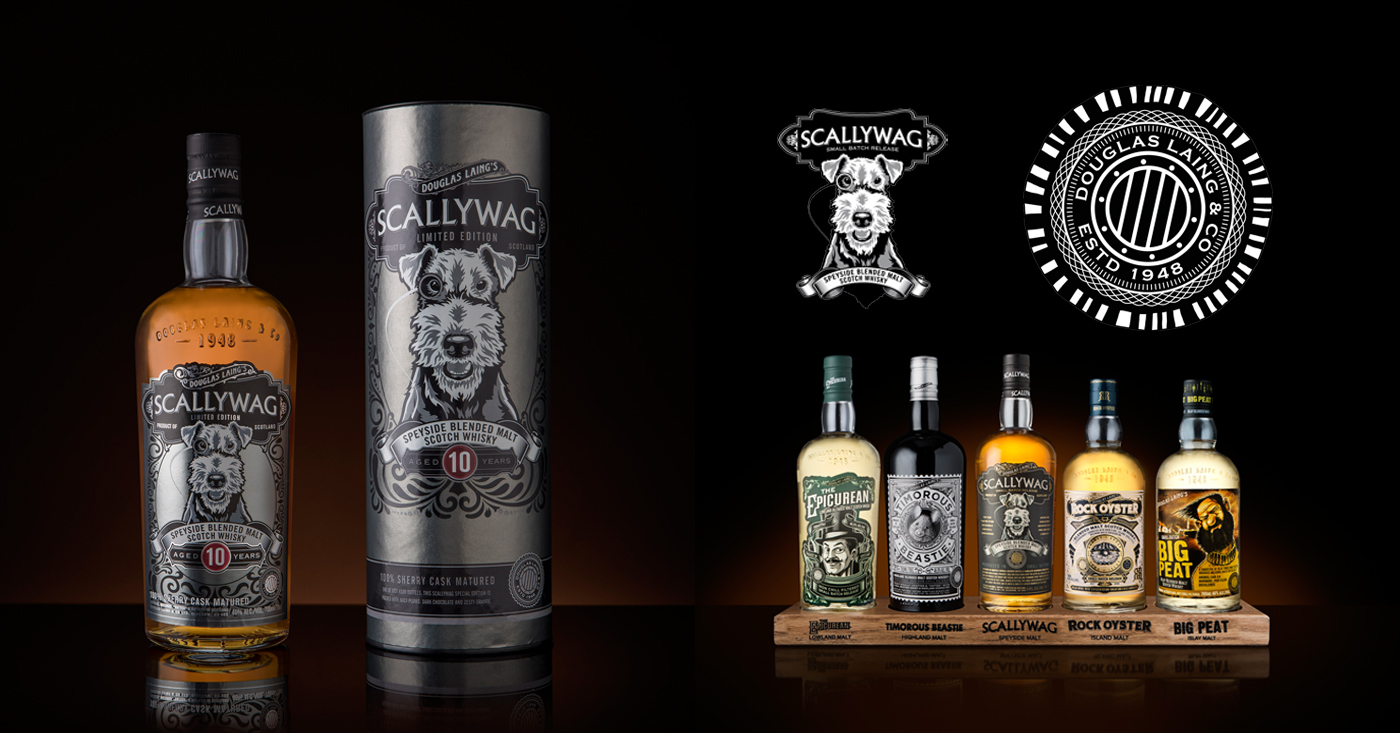 Douglas Laing lanceert de zeer gelimiteerde Scallywag 10 YO Limited Edition Speyside Malt Scotch Whisky
OLDENZAAL - Maandag 28 mei 2018
Douglas Laing lanceert op regelmatige basis exclusieve
limited editions
die zeer beperkt verkrijgbaar zijn. Zo ook:
109479 Scallywag 10 Years Old Limited Edition Speyside Malt Scotch Whisky 0.70 ltr
Maak kennis met Scallywag Speyside Malt Whisky 10 Years Old Limited Edition. Gebotteld met een alcoholsterkte van 46%,
non-chill filtered
en tevens voor 100% gerijpt op
sherry butts
. Deze
limited edition
is een ode aan het 70-jarig jubileum van Douglas Laing en omdat een hondenjaar gelijk is aan 7 levensjaren van een mens wordt deze unieke editie na 10 jaar gebotteld. Een fraaie editie te weten dat de familie Douglas Laing veel van Fox Terriërs houdt. De allocatie van deze
limited edition
van Scallywag verloopt via de Verkoop Buitendienst van De Monnik Dranken. De verwachting is dat wij vanaf week 23/24 kunnen uitleveren en vanzelfsprekend OP=OP! Zie hieronder het officiële persbericht van Douglas Laing:
Douglas Laing's 70th Anniversary Celebrations Continue With The Launch of their Scallywag Speyside Malt Whisky 10 Years Old Limited Edition
Douglas Laing & Co, leading independent Scotch Whisky firm, reveals Scallywag 10 Years Old Limited Edition Speyside Malt Scotch Whisky. The family business, established in 1948 and currently amidst its 70
th
anniversary celebrations, says the 10 Years Old age statement marks 70 dog years, in a nod to the family's Fox Terrier whose face appears on the packaging. Bottled at 46% and offered without colouring or chill-filtration, the unique vatting of Speyside Single Malts is 100% matured in sherry butts. The results is a Malt Whisky with notes of rich cocoa, stewed plums and sweet mocha. Scallywag was first brought to market in 2013 and the Douglas Laing family has since added Cask Strength and 13 Years Old variants to the portfolio. The brand continues to enjoy sustained and impressive growth, appealing to sherried Whisky lovers (and dog lovers alike!) the world over. Cara Laing, Director of Whisky and third generation in the family business, comments on the new release: "Some would say that Scallywag 10 Years Old is in fact aged 70 years, and if you count in canine years, that is indeed the case! It is 70 human years since my grandfather, Fred Douglas Laing, founded his eponymous company back in 1948, and as a man with a rather sweet tooth, we believe he'd be particularly proud of the vatting we have created, combining Speyside Single Malts matured in Oloroso and Pedro
Ximénez
casks to bring those rich, dark fruity and indulgent notes to the fore. Scallywag at "70" is well-bred with great pedigree from a long line of wire haired Fox Terriers owned and loved by the Douglas Laing family.  We hope Whisky drinkers around the world will enjoy his company as much as we do." Just 4500 bottles are available globally.
Tasting notes
Nose: Sweet with red fruits, mocha and honeycomb Palate: Gentle spices develop to rich cocoa, milky cereal and toasted oak F: Lingers with cinnamon, stewed plumbs and brown sugar
ABOUT DOUGLAS LAING:
Douglas Laing & Co. is a leading independent Scotch Whisky blender and bottler specialising in the selection and release of Single Cask Single and Small Batch Malt Scotch Whiskies. The company was founded by Fred Douglas Laing in 1948 and is still owned and run by the Laing family – Fred Laing Jr and his daughter Cara Laing. The company philosophy is to bottle the way the distiller intended – at a high strength and without chill filtration to preserve the robust and unique character of the Whisky. Douglas Laing's industry reputation and many awards is testament to this ethos. Douglas Laing's Remarkable Regional Malts, the Ultimate Distillation of Scotland's Malt Whisky Regions, encompasses The Epicurean Lowland Malt Scotch Whisky, Timorous Beastie (Highlands), Scallywag (Speyside), The Gauldrons (Campbeltown), Rock Oyster (Islands) and Big Peat (Islay). Beyond its Blended Malts expertise, the award-winning Douglas Laing portfolio also includes Old Particular Single Casks, XOP and Provenance, collectively known as the firm's "Exceptional Single Casks".